March served a great reflection on Women's History Month honoring the path women have traveled to get to where we are today, but throughout the month of April we're looking forward to the future of strong women in business, so let's continue the conversation about the importance of women in leadership roles.
Join us as we discuss female leadership roles in businesses and communities, tips on how businesswomen can pull ahead in the workplace and business ownership, interesting facts and statistics about businesswomen and leaders, and how women can step up within their industries and lead a new appreciation of female-driven business.
4 Types of Questions to Ask Your Mentor

Whether you're just getting started with a new mentor, have never considered a mentor because you feel like you don't know where to start, or feel like you've possibly hit a slump or run the course of the relationship with your favorite mentor, this list can help you rethink and reshape your approach to your mentee/mentor connection.
Perhaps you approached someone you admire, and bravely asked that person to become your mentor. And they said "yes!" But a year into the relationship, those monthly mentoring conversations don't seem to invigorate you like they used to, and aren't quite as energizing for them, either. In short, you suspect the mentorship may have run its course. The fact is, sometimes it's not the relationship that's stale – you just need some fresh material to discuss. So why not re-invigorate those mentoring sessions by preparing a thoughtful, diverse slate of questions ahead of time? And for those who are new to being a mentor or mentee, these are a great way to get off to a strong start.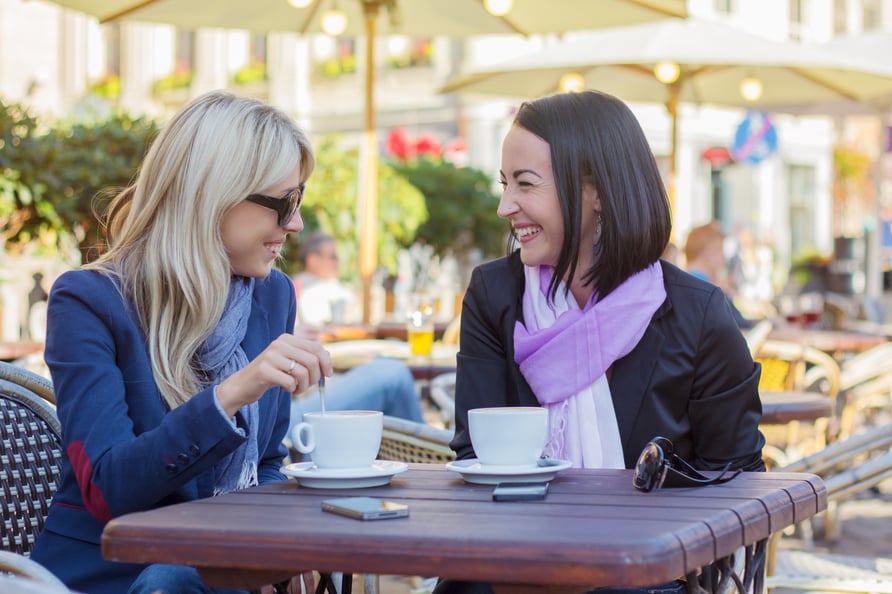 Here are four types of questions to prepare ahead of every mentoring conversation that will keep things interesting – and valuable – for you and your mentor:
1. Stories
Hey, everybody likes to talk about themselves! Ask your mentor to tell a story from his or her own career. For example, you could ask, "How did you get to where you are today?" or "Was there a time you messed up and felt like you'd failed? What did you do to recover?" or "What do you wish you had known before your first management role?"
2. Situations
Bring a situation to your mentor. One that you'd like help navigating. For example, "I tried to delegate a task last week and it did not go as well as I'd expected. Can you help me think through what to do differently next time?" or "I have these two very different career path options and would like your help making a decision" or "How can I let my boss know that I don't need to be micromanaged?"
3. Self-Awareness
One of the greatest gifts you can give yourself is the gift of self-awareness, meaning the ability to see yourself as others perceive you. That way, if you like how you're perceived, you can embrace it and take steps to strengthen that positive perception. If you don't like how you are currently perceived, you can take steps to change that perception to a more positive one.
Your mentor can help by "holding up the mirror" and giving you feedback on how your actions and communication are impacting the way others see you. Ask a question, such as, "When I presented in that meeting last week, how did I do?" or "Could you give me feedback on ways to improve my leadership presence?" or "Am I coming across as high-maintenance when I send my boss weekly status updates?"
4. Skill-Building
Is there a skill you're currently working to enhance, such as project management, long-term strategic planning, delegating, or public peaking? Ask your mentor for advice and resources that will help you polish that skill.
The Takeaway
By preparing a new variation of each one of these four questions before every mentoring conversation, you can all but guarantee that you'll have interesting conversations for years to come.
If you're looking for a new mentorship relationship, have questions sparked by the suggestions above or are looking for some insight in regards to your own professional development, there's no better place to find it than from a seasoned professional and female business leader who truly does it all - Don't miss your opportunity to ask Seacoast's Executive Vice President, Small Business Banking Leader, Julie Kleffel any question you'd like about being a women in business in the form below.
AND mark your calendars for April 26th at 12pm EST, as Julie takes over Seacoast's Twitter (@SeacoastBankCom) to provide insight on her own experiences as both a business and community leader, to open a discussion up for women in business to share their thoughts on mentorship, the role of women in business today as well as in the future, and dive deeper into how we begin to make a meaningful shift in the involvement and profile of female leaders in the workplace.
ASK A WOMEN IN BUSINESS MENTOR A QUESTION:

About Julie Kleffel
Julie Kleffel is Seacoast Bank's EVP, Small Business Banking Leader. She joined the Seacoast leadership team as a result of a merger between her former institution BankFIRST and Seacoast Bank. She is responsible for developing, implementing and overseeing the bank's small business banking strategies and initatives statewide. Prior to the merger, Julie was BankFIRST's Executive Vice President and Commercial Sales Leader. She has over 19 years of overall banking experience.

As a fourth generation Central Florida native Ms. Kleffel has strong ties in the community. Ms. Kleffel currently serves as the Treasurer for the Garden Theatre, Executive Board Member for the Dr. Phillips YMCA, Finance Committee for the Central Florida YMCA, and Executive Director for the National Entrepreneur Center. She is a Lifetime Director for the West Orange County Chamber of Commerce. Previously she served as the Past President for the West Orange Committee 101, Past Chairman of the Roper YMCA, Past for Oakland Park Foundation Board, and Past Advisory Board Member for Westside VoTech. She is a graduate of Leadership West Orange.

A graduate of the ABA National and Graduate Commercial Lending Schools, Ms. Kleffel has also received the prestigious "Certified Lender Business Banker" designation from the Institute of Certified Bankers. She completed her professional education by graduating with distinction from the American Bankers Association Stonier Graduate School of Banking at the Wharton School of Business at the University of Pennsylvania in 2009. Her graduate Capstone Strategic Project was published by the ABA immediately following her graduation. She has served as an Advisor and Advocate for the school since 2009.
Connect with Julie Kleffel on LinkedIn
Read the original article on BeLeaderly. Copyright 2016.