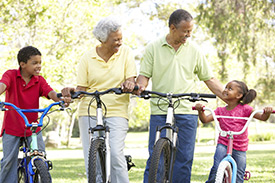 George and Elizabeth Rogers are longtime clients of a local bank. They have both recently retired; George sold the restaurant he had owned and operated for nearly three decades, and Elizabeth retired after 31 years as a college professor. They have been saving and investing for years, with their goal being to travel around the world during their retirement.
The day before they are scheduled to leave for an extended tour of South America, George and Elizabeth stop by their local branch to deposit a dividend check that had just arrived in the mail. While waiting to be helped, Elizabeth realizes that they had thought to make arrangements for their house and pets to be taken care of while they are away, but they hadn't given any thought to who would oversee their investments while they would be gone. What if the stock markets experienced drastic fluctuation? What if interest rates changed, perhaps impacting the value of their bond portfolio? How are they going to receive their interest and dividends? Will they now be able to take this trip and still have peace of mind?
By having your assets managed in an Investment Management account with the Trust Department at Seacoast National Bank, you won't have to worry about these things. Our professional staff will manage your portfolio, monitor market trends to determine how your assets might be impacted, and oversee cash inflows and outflows, so you can enjoy your time, confident that things are being handled according to your wishes.