Shop Anywhere. Stay Safe Everywhere.
Shopping with confidence - Your Visa® Debit Card has multiple layers of security built in:
Zero Liability* reimburses you for unauthorized charges
Fraud Monitoring looks for early signs of suspicious activity
Verified by Visa® offers additional password protection at select merchants to help make sure you're the only one who can use your card online
3-Digit Security Code adds even greater protection when shopping online or over-the-phone
ID Theft Assistance provides access to counseling services at no additional cost to help resolve any ID theft issues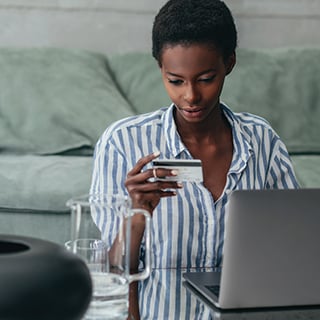 *Visa's Zero Liability policy does not apply to certain commercial card and anonymous prepaid card transactions or transactions not processed by Visa. Cardholders must use care in protecting their card and notify their issuing financial institution immediately of any unauthorized use. Contact your issuer for more detail.
---
Next time you shop,
let your smartphone
carry your debit card.

Using your mobile wallet app, linked to your Seacoast Bank Visa® Debit Card
on your mobile device, is a faster and safer way to make purchases.

Learn More >
Help Keep Your Finances Safe
Card Controls:
Prevent Fraud & Control Spending on Your Seacoast Visa® Debit Card with SecurLOCK™
Accessible on Seacoast's Mobile Banking App >
With SecurLOCK, you can easily:
Help prevent fraud if your card is lost or stolen
Control spending by setting limits on withdrawals or transactions
Customize spending ability by online, mobile or in-store purchases
Block international or out-of-area transactions
SecurLOCK also provides real-time transaction alerts so you always know when your card is in use. And you have 24/7 access to review your transaction history, right at your fingertips.
Keeping up-to-date
You should look at your account details regularly to make sure you don't have any unauthorized transactions. This can be made easier by checking your statements and paying bills online. It's also a good idea to check your credit report annually for any activity you didn't initiate. For information on how you can obtain a free annual credit report, visit annualcreditreport.com

Visa is an industry leader in card security. By keeping these simple tips in mind, you can help us keep your card safe – at the store, online or anywhere else.
Let's work together
No matter where you shop (even online), you can feel confident using your Visa® check card or credit card because we're always working to keep you safe – with multiple layers of security.*