March served a great reflection on Women's History Month honoring the path women have traveled to get to where we are today, but throughout the month of April we're looking forward to the future of strong women in business, so let's continue the conversation about the importance of women in leadership roles.
Join us as we discuss female leadership roles in businesses and communities, tips on how businesswomen can pull ahead in the workplace and business ownership, interesting facts and statistics about businesswomen and leaders, and how women can step up within their industries and lead a new appreciation of female-driven business.
What Women in Leadership Can Do For Your Company
Earlier this year a report from The Peterson Institute for International Economics asserted that when a company employs women in leadership positions it can expect an increase in profitability. Other studies on the subject came to similar conclusions.
But women also improve firms' social performance and social responsibility.
According to a newly released analysis of 87 independent studies from over 20 countries, these finding hold true for corporations with women on the boards of directors—as long as their input is taken seriously.
But why do women in leadership roles give companies a boost in their social conscience?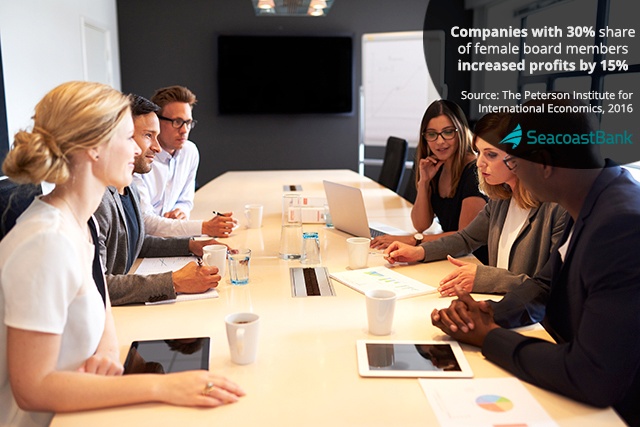 Lehigh University professor Corinne Post and Georgia State professor Kris Byron – who authored this latest paper on the topic – have found that the answer to that question is the differences women bring in terms of perspective, education and style of conduct.
"There's extensive research that shows that men and women have different values and that women tend to be more holistic, think more broadly, be more attuned to environmental and social concerns," says Post. "So when there's a discussion in the boardroom, those views – thinking about the implications for the communities we work in, what are the implications for employees – might be more likely to be voiced because you have those perspectives on the board."
Why women tend to be more in tune with certain issues is debatable, and not covered by Post and Byron's analysis, but Post suggests the answer may lie in the tendency of women to be more in tune with relationships. "(Women) think about themselves usually in relation to others. Whereas men – either born or developed – see themselves more independently, as standing apart from others. For individuals who see themselves as more connected to others, it becomes natural to think about the implications for others."
Another factor at play on company boards is background. Women who reach the upper echelon of corporate governance tend to have achieved a higher level of education, says Post, which translates to a greater perspective on social responsibility. In decision-making, women tend to be more inclusive and ask more questions.
Using an inclusive style of decision making and information-gathering, women also tend to be more prepared. The need to be as prepped as possible, Post suggests, could be fueled in part by feelings that, as women, their qualifications are in question. That preparedness has an effect on men, funnily enough. Says post: "When women participate on boards, the attendance of male directors goes up too. There might be some type of contagion effect where if women come better prepared, then everybody starts preparing better. That can help in making better decisions overall."
One major misconception that Post and Byron discovered is the assertion that diversity directly leads to a boost in company performance. The reality is a touch more complex; other conditions need to be in place. Post explains: "One of the conditions that enables diversity to lead to higher performance is when you hold a group accountable for their performance."
In corporate environments like the United States, shareholders have greater access to the goings-on within a board and can take legal action if they fear their best interests are not being tended to. In some other nations – or simply any company not comfortable embracing diversity – those types of checks are not as strong and corporate governing bodies may not feel as much pressure to allow diversity to take hold or, if it does, allow it to make a difference. "You need to have processes where the board is going to actively seek input and consider people's perspectives." Only then can the positive impact of women in leadership positions be realized.
If you'd like to learn more about female leadership from a seasoned professional, or gain insight from a female business leader who truly does it all - Don't miss your opportunity to ask Seacoast's Executive Vice President, Small Business Banking Leader, Julie Kleffel any question you'd like about being a women in business in the form below.
AND mark your calendars for April 26th at 12pm EST, as Julie takes over Seacoast's Twitter (@SeacoastBankCom) to provide insight on her own experiences as both a business and community leader, to open a discussion up for women in business to share their thoughts on mentorship, the role of women in business today as well as in the future, and dive deeper into how we begin to make a meaningful shift in the involvement and profile of female leaders in the workplace.
ASK A WOMEN IN BUSINESS MENTOR A QUESTION:

About Julie Kleffel
Julie Kleffel is Seacoast Bank's EVP, Small Business Banking Leader. She joined the Seacoast leadership team as a result of a merger between her former institution BankFIRST and Seacoast Bank. She is responsible for developing, implementing and overseeing the bank's small business banking strategies and initatives statewide. Prior to the merger, Julie was BankFIRST's Executive Vice President and Commercial Sales Leader. She has over 19 years of overall banking experience.

As a fourth generation Central Florida native Ms. Kleffel has strong ties in the community. Ms. Kleffel currently serves as the Treasurer for the Garden Theatre, Executive Board Member for the Dr. Phillips YMCA, Finance Committee for the Central Florida YMCA, and Executive Director for the National Entrepreneur Center. She is a Lifetime Director for the West Orange County Chamber of Commerce. Previously she served as the Past President for the West Orange Committee 101, Past Chairman of the Roper YMCA, Past for Oakland Park Foundation Board, and Past Advisory Board Member for Westside VoTech. She is a graduate of Leadership West Orange.

A graduate of the ABA National and Graduate Commercial Lending Schools, Ms. Kleffel has also received the prestigious "Certified Lender Business Banker" designation from the Institute of Certified Bankers. She completed her professional education by graduating with distinction from the American Bankers Association Stonier Graduate School of Banking at the Wharton School of Business at the University of Pennsylvania in 2009. Her graduate Capstone Strategic Project was published by the ABA immediately following her graduation. She has served as an Advisor and Advocate for the school since 2009.
Connect with Julie Kleffel on LinkedIn
Read the original article on Forbes. Copyright 2016.