The COVID-19 crisis has forced the world to change how it conducts business overnight. As we all begin to move forward together and reopen our doors, new priorities and practices are beginning to take shape. Some will change our interactions with customers. Some will alter our long-established processes. Nearly all will in some way affect our bottom lines.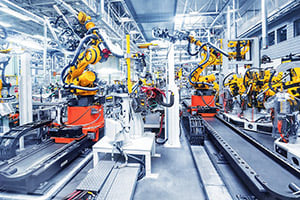 New opportunities will undoubtedly arise—as will unfamiliar challenges. Those who keep an open mind will be best prepared to tackle both. Now is the time to find, and work with, a trusted partner to make sure you have a solid plan of action—and the funds to help you navigate uncertainty.
For most businesses, two of the most common challenges will be planning and funding. If you uncover an opportunity, how will you finance it? If you experience a challenge, where can you turn? Finding the right solutions to balance these potential changes to income streams will be essential, as will managing debt and cash in a safe and efficient manner. A crucial first step is having a banking expert on your side to help you map out your financial strategy.
Evolving Manufacturing
Manufacturing has been on an up and down rollercoaster ever since the pandemic started. Steep demand drop-offs caused many to scale back on projections, while some altered their course entirely—pitching in to help produce ventilators, masks and other essential personal protective equipment.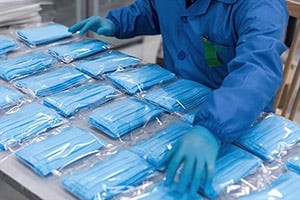 While reopening has begun, there is still a pervasive uneasy feeling among a majority of US industrial products companies. A recent PwC survey showed 74% of CFOs agreeing the crisis may significantly impact their business.
However, among all the uncertainty, there is opportunity. While it's not the exact same situation, the Great Recession gave us a glimpse into potential possibilities—specifically, how manufacturing companies can not only survive, but thrive, coming out of periods of uncertainty.
Get the latest updates, offers and helpful financial tips.
Stay Flexible
Quite possibly the most important attribute to amplify during any crisis is flexibility. Businesses that are able to quickly adapt have a much better chance of persisting. Businesses that hold dearly to the ways they've always done things may also emerge, but they will likely find themselves facing a different landscape than they are used to, putting them at a greater risk of becoming irrelevant. Staying resilient and potentially shifting your business strategy can help your small business get a leg up on competition. It's also critical to maintain enough cash flow to keep operating as efficiently as possible.
Look for Opportunities
A big benefit of being smaller, agile and more adaptable means you can spot opportunities—and act on them sooner. Times like these can introduce opportunities you never thought possible. Having an experienced financial partner on your side can help you more readily take advantage of anything that may come your way. Then when we finally do emerge from the pandemic's shadow, your business will have already hit the ground running.
Be Decisive
It's natural to lean toward more hesitant decision making right now, but history has shown that's not the best way to get ahead. The indecisive and risk averse tend to float along, while those who embrace bolder decisions can grow by leaps and bounds. A solid financial strategy, along with the guidance of an experienced financial partner will help you make smart decisions with confidence.