Host an Event
There is really no better way to get people to your location this Fourth of July than hosting an event. 65% of consumers plan on attending a barbecue or picnic this Fourth, so why not introduce them to your business by hosting your own event.
Have a hot dog eating contest in honor of the great tradition, or simply grill up some food for the community to enjoy. Combining your event with a giveaway, such as a raffle, will get people excited about your offerings, and you can get them to hand over their contact information for an entry -- a great way to grow your network. Encourage your participants to use a special hashtag for the occasion when posting on social media, and you'll get the added benefit of exposure to their followers.
Get the latest updates, offers and helpful financial tips.
Target Families
Families spend time together on holidays, so target all ages with your marketing campaigns. If you decide to host an event, include activities like face painting for kids; remember that their parents -- and their money -- will come along too.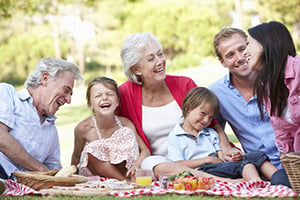 Build Excitement
You can use the holiday to your advantage by building up excitement to it. 12 days of Christmas? Why not 12 days of Independence? Keep your consumers engaged and excited by offering a "countdown" to the holiday, culminating on the day itself. Offer sales, giveaways, or entries in a contest to keep your audience coming back, and incorporate your final giveaway with the event you host. And of course, make sure everything is red, white, and blue.
Crowdsource Your Content
Crowdsourcing content is the easiest way to get great things to post, without having to do much work. Set up a hashtag incorporating your business and the Fourth of July, and encourage your social media followers to participate by submitting their own applicable photos. You can incorporate a giveaway or contest element, or simply feature user-submitted content; people love to see their posts promoted by a company. It's Florida, so you can design a theme around staying cool in the heat, hanging out at the beach, or just having fun in the sun.
When it comes to the Fourth of July, Florida businesses have ample opportunities to promote themselves to local residents and travelers. If you are setting up your plans for summer promotions, contact us today to learn more about small business banking solutions that will make your strategy a reality.