You don't want just a loan, you want the right loan for you, right? A consumer express loan could provide you with everything you need in a timely way, allowing you to move ahead with plans made and improve your life, your home, your finances – and so much more.
A loan from your local bank can make all the difference in the world when you are strapped for cash and need a solution. Getting a loan isn't a decision to be made lightly, but once you've examined all the angles, a consumer express loan might be the option that makes the most sense for your situation.
What is a consumer express loan?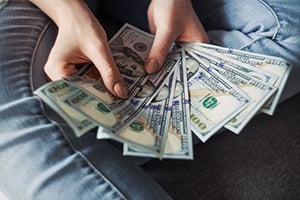 A consumer express loan is exactly what it sounds like. It's a loan made to a consumer by a financial institution, and its express status means it is initiated, approved, and funded quickly, without the normal weeks of processes required for traditional personal loans.
You can use your loan proceeds for a variety of purposes depending on the terms of your loan and get generous payment terms that give you the freedom to enjoy your loan and pay it back in a timely manner. You can even improve your credit!
What do you need for a consumer express loan?
Before you apply for a consumer express loan, gather all of your documentation. This should include proof of how you plan to pay back the loan, including your income and any collateral. You'll have to be prepared for a credit report to be pulled, and your finances looked at.
If you bank at the same local financial institution at which you apply for the loan, this can help you, Banks like to do business with their own customers. Making a loan to a local banking account customer is easier than deciding to take a risk on a faceless stranger or someone from outside the community. If you take this route, they will already have a good idea of your finances and ability to make good on your loan.
Where to go for a consumer express loan
When deciding where to apply for a consumer loan, you might want to take a step back from the conglomerate financial institutions. They can quickly stall your endeavor with outdated loan initiation processes, demands for piles upon piles of paperwork, and the need to run the loan through a big corporate office -- where speed isn't a priority and you're just another number in the stack of loan applications.
Instead, why not use a regional or local bank? The advantages of going local for a consumer express loan are many:
Convenient locations
A local bank will have key locations that you can get to easily and shorter waiting times for appointments with an express loan officer.
Friendly staff
Local banks are staffed from the general area, and you'll likely have a friendly, welcoming, and helpful experience since you're both part of the local community.
Local decision making
Instead of your loan application being kicked out to some remote, centralized location to join a pile of impersonal paperwork, your loan approval decision will be made close to home – and quickly.
Fast closing
Once your loan application has been initiated and your information verified, approval is fast and easy – often closing the same day! You could have funds almost immediately.
Dependable service
If you need help with your loan after approval or funds disbursement, you have a connection at your local branch and a convenient 800 number to contact someone outside the branch hours when you need them. All of these reasons are why it makes sense to go local when looking for a consumer express loan.
Reasons for taking out a consumer express loan
Looking hard at why you are considering a consumer express loan can help you plan for how to handle your upcoming responsibilities. Here are some common reasons for applying for an express loan:
Cash infusion
If you need a loan because of a cash flow issue due to bad budgeting, careless investing or poor business decisions, that is valid – but make sure you put steps in place to prevent making the same mistakes again. A consumer express loan can bail you out of a pickle once, but not twice in short succession, so before you get the funds you should lay out a plan for how they will be used. Focus on resolving your cash flow problem, and getting yourself back on your feet so you can swiftly pay back your express loan and move forward better off than before. Instead of dwelling on the past, you can fix your financial crisis with a consumer express loan, and start concentrating on Plan B.
Debt consolidation
If you have debt surrounding you from all sides, multiple monthly payments can eat away at your income and make it hard to make ends meet. Consolidating your debt through a consumer express loan can eliminate a list of monthly payments and replace them with a single payment owed. Instead of owing a lot of people money over a short time period, you trade up to owing just one debtor money over a longer time period. In many cases, your total monthly payments will be less after you obtain your consumer express loan than they were before. Your consumer express loan can eliminate calls from debtors and set you on the path to rebuilding your credit right away.
Large purchases
Maybe your car finally gave up the ghost, or you've moved to a rural area and need different transportation. Maybe you are at that stage of your life when you just want to get a boat or RV and cruise the water or the highways. Either way, a consumer express loan can mean your dreams start sooner rather than later. You could be enjoying lazy days idling along the coast watching the sun rise and set, or get a new lease on life zooming down the open road stopping only to catch some sleep and revel in cross country freedom. With a consumer express loan, the adventure can start in just days instead of weeks or months.
Home improvement
A great reason to take out a consumer express loan is to finance home improvement projects. This money is well spent because you can likely recoup it if you ever sell your house. If you are already planning to put your house on the market and want to spruce it up for a better asking price, a consumer express loan can be approved quickly and let you get your improvements done in short order so you can sell your home quickly for the best price. The extra dollars you get from the sale of your home can easily pay back your loan and then some. If you don't plan to sell your home, you'll be adding to its comfort and livability or doing a much needed repair with the proceeds of your consumer express loan -- without having to wait for weeks for a loan approval to come through.
Business launch or expansion
If you have an idea for a company or want to expand an existing business, a consumer express loan can get you up and running – or back up and running – in no time. Since the approval process is so fast, this can really provide a safety net in case you've run into a temporary cash flow problem, and help you bridge the gap until you are out of the red. When your business grows and revenues increase, you'll be glad you had the fast, easy option of a consumer express loan to shelter you and keep you afloat.
Wedding or vacation plans
Want the wedding of your dreams, or to take that trip to Disney while the kids are still young enough to enjoy it? A consumer express loan can bolster your bank account ad make your dreams come true, Whether it's a beach side ceremony complete with an entourage of friends and family, or a solo flight to an exotic locale for two weeks to decompress and start a new chapter in your life, a consumer express loan can make dreams into a reality with fast approval and funding.
Get the latest updates, offers and helpful financial tips.
What's the difference between consumer express loans and other funding?
A consumer express loan can really be the best option compared to other types of loans or funding. Look at the different options and make the best choice:
Traditional bank loans
A traditional loan is similar to a consumer express loan, but can takes weeks to get approved and funded. With a consumer express loan, you could have approval as soon as the same day you apply, and funds disbursed quickly to address your needs.
Home equity loans
Putting your home on the block can be perilous, especially if the housing market changes and you end up owing more on the home than it is worth due to new appraisals. A consumer express loan isn't necessarily tied to your home's valuation.
Credit cards
"Charging it" may seem like a quick and easy option if you are just a little short on cash, but interest rates can be brutal and the payments difficult to negotiate. With a consumer express loan, you have more flexibility and don't have to run the risk of racking up expanding credit card debt.
Asking friend or family
Asking friends for money is the fastest way to stop being friends, and family situations can be just as awkward. A consumer express loan can resolve your money issues without getting them involved.
How the consumer express loan process works
An express loan is fast-tracked through the system, allowing you to receive funds more quickly and start using them for their intended purpose. Whether that purpose is expanding a business, financing a home repair, buying an RV, or consolidating debt, an express loan can solve your problems and put you on an even keel.
The fast infusion of cash can happen incredibly quickly of you choose the consumer express loan route over more traditional lending practices. The process is simple:
Make an appointment
You can fill out a request form or call your local Seacoast bank branch for a consultation. Since you're dealing with a local bank instead of an impersonal big institution, you'll be able to secure an appointment with someone who is invested in doing right by you as a member of the community and keeping your bond with the bank strong and built on trust.
Consult with your financial professional
Your appointment will typically start with your loan specialist learning about you, why you want a consumer express loan, what funds will be used for, and so on. You'll get some preliminary information about the potential terms you'd be agreeing to. It's a quick, easy process designed to make sure both you and the bank are a good fit for a loan transaction.
Supply your documents
This is where many loan processes bog down, with demands for more and more documentation that can make you feel discouraged and unwanted. In the case of your consumer express loan application, you can ask which documents specifically should be brought to your appointment, and the list won't be too long. Unlike traditional lending processes, you won't be buried in paperwork and forced to hand over everything from your kindergarten report card to your great grandfather's land deeds.
Await the decision
With traditional loan processes, this can be the hardest part – waiting for the decision of some computer in a faraway city to spit out a final decree. With a consumer express loan, you can get an answer often the same day. It's that fast and easy. No waiting games, empty promises of "soon" or hours turning into days while you get more and more anxious waiting for a phone call that takes forever to arrive. Instead, it's a quick, efficient review process and confirmation as soon as possible so you know if you've been approved.
Loan funding
Again, after a traditional loan is approved, it can take up to a month for it to be funded through the typical channels. Your consumer express loan will be funded promptly, getting your cash into your account as quickly as possible so you can get started with whatever plans you have for it. Why make you wait for money you're already approved to utilize? The express loan option streamlines the process and gets you from loan initiation to cash in hand faster than you ever thought possible.
Are you ready for your consumer express loan experience?
Don't subject yourself to weeks of waiting on a traditional loan application, or racking up credit card debt that can cripple your overall finances and be increasingly difficult to repay. If a consumer express loan sounds like a good idea to you, it's easy to get the process started.
Request a local consultation and start your loan application today.