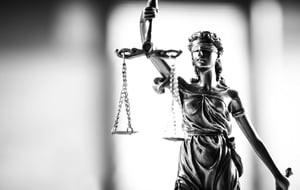 Katrina Trump is a banker — the senior vice president of commercial banking at Seacoast Bank — who works with a lot of attorneys. She is a member of the Clearwater Bar Association, but she's not an attorney. She likes to maintain a front-row seat when it comes to law firm technology trends that are transforming the legal industry.
Legal Technology Allows Easier and Safer Access for Clients
Take, for instance, the trusts and estates attorney she works with, who created an online portal for clients. The portal allows the attorney to upload documents for review, and it allows her clients to conduct that review at any time, from anywhere, Trump explained. "Rather than have the client come in and sit for an hour and review, the online portal lets that review happen online, at the client's convenience," Trump said. "That's been able to save this attorney an immense amount of time."
Industry Resistance to Change
Law firms have been slow to embrace legal technology. As the American Bar Association points out, there are valid reasons for that reticence: "Our professional obligations demand that we not take risks, so we tend to stick with what we know works," a law professor wrote for the ABA website. But that is changing, slowly but steadily, as it relates to client relations, legal process and billing.
Scott Leitner, assistant vice president for business banking at Seacoast, has seen
this firsthand. Before shifting his career focus three years ago, he was a practicing attorney, specializing in real estate litigation at firms both large and small. Now, more than 80 percent of his clients are attorneys. "Technology has really transformed the entire practice of law in
the in the 21st century," Leitner said.
Everything from how attorneys e-file motions and documents to the way they conduct research and perform discovery has evolved, Leitner said. Technology now allows lawyers to analyze data and draw conclusions faster than ever before. Artificial intelligence tools such as legal chatbots can automate simple tasks such as answering common questions. And mountains of research are now available instantly, through platforms such as Westlaw or LexisNexis.
How Legal Technology Has Shifted Billing and Revenue
"Where typically attorneys would have gone to a law library to look up case law in books, now it's available at your fingertips through one of the online legal research platforms and it really saves time," Leitner said. With attorneys, time is money, which has created another technology-induced shift.
"In today's world, the time spent performing research and discovery has diminished and it's really cut down on what firms are able to pass down to their clients, billing-wise," Leitner said. "More mid- to large-sized firms have these traditional billing models, and they're having to adapt
how they expect their associates and partners to drive revenue from clients."
In many ways, Leitner said, that's given smaller and younger law firms a distinct advantage — particularly in Florida, a state with 11 law schools, a lot of new law graduates each year and not enough traditional law firm jobs to support them, Leitner said. "They're starting their own firms, and they're much more adaptive. They charge flat rates for services versus the hourly billing," Leitner said. "I think the smaller, newer firms have an advantage over the bigger firms that are slower to adapt their billing models and embrace legal technology."
"Technology now allows lawyers to analyze data and draw conclusions faster than ever before."
Some services are popping up to ease that transition, Leitner said, and the Florida Bar is at the forefront. Attorneys are required to log a certain amount of continuing education credits each year, and in Florida, those requirements now include three credits of technology-related education, he said. The Florida Bar also provides tools to its members, including LegalFuel, released this year, which provides different tools to help attorneys with the business side of law. A big part of that is consultation on how technology can support the legal industry.
Cloud computing is one example, said Christina Dickson, vice president of business banking at Seacoast. One of her clients is an attorney who spends much of his time in Chicago but is able to maintain a legal practice in Florida thanks to his cloud-based software system. "Some attorneys will tell you that technology has created less time for them because it's made them more accessible," Dickson said. "But in a lot of ways, it can be very helpful."
Learning About Technology Through Memberships and Networking
Dickson, like Trump, is also a member of the Clearwater Bar Association, and the affiliation provides an opportunity for her to connect with attorneys, as well as technology partners serving the industry. Her clients and prospects learn about what's going on in the tech space, and as she talks with clients, she's able to share that knowledge and become more of a business advisor.
That relationship can be critical for an attorney, especially those who are launching their own firms, Dickson added. When it comes to the financial side of the law, there are certain elements you must get right. Firms need to have an operating account and a trust, or IOTA, account, and they need to ensure those accounts are managed correctly.
"That's where the partnership really comes in. We bring that knowledge to them, and the fact that we can set it all up in one system is favorable to them," Dickson said. "The fact is, many law schools offer the financial side of business management as an elective, providing limited exposure in law school to most students."
Trump agreed. "The number one reason why we see attorneys look to join a bigger law firm or be acquired is because they have not historically been exposed to formal business operations and financial training." Trump said.
And a critical part of the modern business world is technology, Leitner added.
"Clients want to feel comfortable with the attorney who is representing them in what could be a life-changing matter. They want to know that they are putting their trust in an advocate. But they also want to hire someone who's on top of legal technology trends," Leitner said. "My viewpoint is that law firms have come to the realization that they have to embrace the technology or they're going to fall behind."
Seacoast Bank is one of the largest community banks headquartered in Florida with approximately $6.7 billion in assets and $5.2 billion in deposits. The bank provides integrated financial services including commercial and retail banking, wealth management, and mortgage services to customers through advanced banking solutions.
By Mary Johnson, a freelance writer for The Business Journals.