Florida is home to some of the world's most beautiful springs. Take a dip in the cold, fresh water springs and explore the brilliant ecosystem that it has to offer. It's the perfect weekend day-trip or getaway and you can bring the whole family along too! With so many outdoor activities the Sunshine State has to offer, OnlyInYourState.com recommends keeping these 12 springs on the top of your 'To-Do' List:
1. Edward Ball Wakulla Springs State Park
Near Tallahassee lies one of the largest and deepest freshwater springs in the world. Swimmers can find an observation and diving platform at the head of the spring. Scuba diving for those certified is allowed at Cherokee Sink, but be sure to call ahead.
2. Blue Spring State Park
This spring near Orange City is the largest on the St. Johns River. Although it doesn't seem warm to us, it's a popular place for manatees seeking warmer waters in the wintertime.
3. Ichetucknee Springs State Park
This park in North Florida is a very popular place to cool off in the summer, and the head spring is a National Natural Landmark. Every Floridian should tube the Ichetucknee at least once.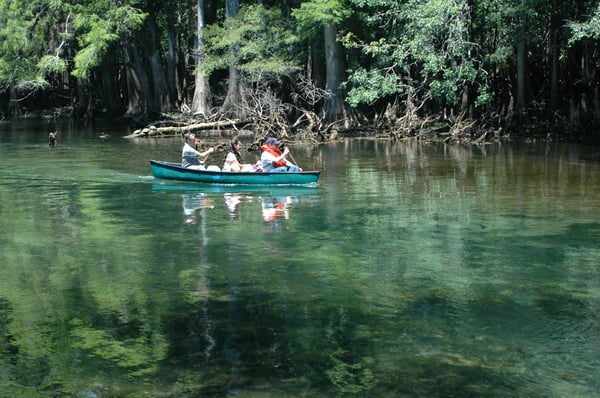 4. Weeki Wachee Springs State Park
We all know this park near Spring Hill for the live mermaid shows, but this state park also has beautiful crystalline waters for swimming, canoeing, and more. Kids will adore the mermaids, and there's a water park, too.
5. Rainbow Springs State Park
About two hours north of Tampa in Dunnellon sits one of Florida's most beautiful state parks. Hike through the park and check out the enchanting man-made waterfalls. Then cool off with a dip in the headsprings or tube down the crystal clear Rainbow River.
6. Ellie Schiller Homosassa Springs Wildlife State Park
If you're more interested in wildlife than water activities, you will love this park in Citrus County. Wildlife like black bears, deer, alligators, otters and manatees can be seen here. There's also an underwater observatory and wildlife encounter to teach animal lovers of all ages about our native wildlife.
7. De Leon Springs State Park
With so many options found all over Florida, the natural springs are an easy and fairly inexpensive road trip that will be sure to please the entire family. Make sure to bring your camping gear if your plan is to sleep on-site and watch out for the wildlife, because there is plenty of it. Get outside and find out why OnlyInYourState.com loves these fresh-water spring destinations!