Exciting news! Samsung Pay™ and Android Pay™ are now available for your Seacoast Visa® Debit Card! Enjoy the convenience of using your Samsung and Android Phones for purchases big & small with a simple in-app touch.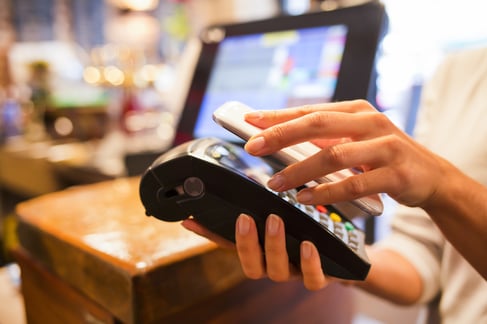 Now paying with your Seacoast Bank Personal or Business Visa® Debit Card through this innovative method is available in even more locations. Android users can use their card for purchases with Android Pay™ anywhere NFC-ready credit card terminals are available. Samsung users have even more options to use Samsung Pay™ with any traditional card reader using magnetic secure transmission (MST) technology. Your card number is never stored on your device, and is never sent to merchants. Samsung Pay™ assigns a unique number for each purchase, so your payments stay private and secure.

How to Set Up and Use Android Pay on Your Smart Device

Before you can start using Android Pay, you'll need to set up the app and add securely your Seacoast Bank Personal or Business Visa

®

Debit Cards.


Open the Android Pay app and, if prompted, login to your Google account and set up an advanced security option for unlocking your phone (if you don't already have one). If you haven't already, choose fingerprint security to ensure no one but you can spend your money.
Press the floating "Add" button to enter a new card on your account. If you have a credit card linked with your Google account, you'll need to verify a few details before you can add it. Otherwise, add the debit and credit cards you'd like to use with Android Pay

™

.
When you're ready to pay, unlock your device and tap the phone against the Android or NFC-compatible logo on the terminal. When the check mark appears above your card, the transaction is complete.
How to Set Up Samsung Pay™:
Samsung Pay should come installed on your eligible device, but if it isn't you can download it at the Google Play Store.
Open the Samsung Pay™ app and watch the brief overview video.
Touch "Use Finger" to assign your fingerprint as the verification method. If you have not registered your fingerprint on the device, you will be given the chance to add a fingerprint. An alternative option is to skip this step and only assign a four-digit Samsung Pay PIN code. To do this touch "Skip and use Samsung Pay™ PIN".
Place your finger on the home key, and then lift it off once you feel a vibration. Repeat until you have reached 100%.To ensure your whole fingerprint is recorded, move your finger slightly each time you touch the key, fully covering the key with your finger.
Create a backup password and touch "Continue".
On the next screen touch "Ok" to use your fingerprint to unlock your device.
It will prompt you to scan the finger you just used for verification.
Create a Samsung Pay™ PIN for payment authentication and application protection.
Re-enter the PIN to confirm.
You are now ready to add your payment cards and use Samsung Pay.
How to Add Your Card to Samsung Pay™:
It only takes a few quick steps to securely add your Seacoast Bank Personal or Business Visa Debit® Card.
Open the Samsung Pay™ app and touch "Add" or "Add a Credit or Debit Card".
Align your card inside the frame to automatically detect the card number and expiration date.
Enter the remaining information and touch "Next".
Review the terms and conditions, and then touch "Agree to All". It might be necessary to select a method to authenticate your identity using a one-time password (OTP) that will be sent to your device as a text.

Touch "Done" to complete the process.
After your card is added to Samsung Pay™, it will be verified by Visa® and Seacoast. On average, this verification will take approximately 5 to 10 minutes. During that time you will be unable to use your card in Samsung Pay™, but you can continue to add cards while others are being verified.
If you have any questions or concerns regarding Samsung Pay™ or Android Pay™ set up, please feel free to call our 24/7 local customer service team at 800-706-9991.