CASE STORY
Originally posted at https://www.fisglobal.com/EmpoweredClients/seacoast
How Strategic Vision & Partnerships Empower Success for Seacoast Bank
While many community banks struggle, 90-year-old Seacoast Bank (Stuart, Fla.) is achieving outsized growth, empowered by an ambitious vision to become Florida's community bank.
To fulfill this mission, the bank is leveraging the data in its FIS-powered core to find better ways to serve and grow existing customer accounts while also working with FIS to build a convenient, omnichannel banking experience that is winning over a new generation of customers. As a result, Seacoast Bank has seen total assets nearly double from $3 billion in 2013 to $5.9 billion in 2017.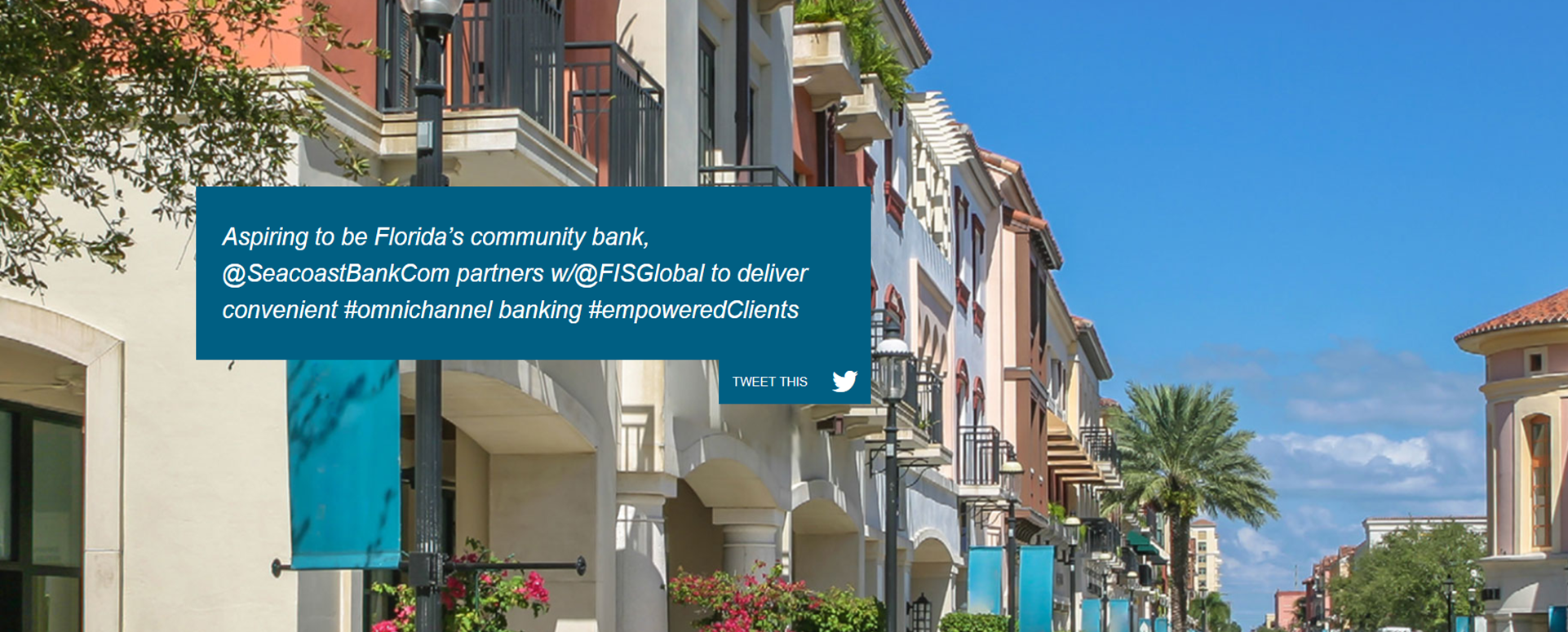 Better Serving Existing Customers
When Chief Marketing Officer Jeff Lee joined Seacoast Bank in 2013, his mandate was to grow the bank organically using its existing customer base. 'The FIS Business Intelligence Center has universes of data—teller data, mobile data, online data, payments data, you name it,' Lee says. 'We took all that data out of BIC and started to connect it together at a customer level and it started to fuel our customer management programs.'
By better understanding customer behaviors, Seacoast Bank implemented a range of new cross-selling and marketing automation programs to win more business from its existing customer base. Data analytics also helped power more customer-friendly policies, such as increasing the daily limit for ATM withdrawals and speeding funds availability for mobile deposits.
An Experience to Rival Any Big Bank
Lee sums up Seacoast Bank's next challenge this way: 'Our customers loved our service, loved our people, but there was a perception—and maybe that perception was valid—that you had to give something up to bank with a community bank.'
Seacoast Bank set out to establish strategic partnerships that would help the bank quickly step up its digital banking capabilities and provide a convenient, multi-channel banking experience that would attract both retail and business banking customers. FIS proved pivotal in helping the bank add a range of modern online and business banking features, all powered by Seacoast's FIS banking core.
Today, Seacoast delivers retail and business banking service across: Branches, Mobile, Online, Call Center, ATMs, and its Commercial Banking Office. The bank also regularly sends representatives into business banking customers' offices to offer advice and support.
"

We love data. We love analytics. We love modeling. We love digital and all the things that can be done with it – but that's never been the story. The story is how you use these things to serve a customer better than they've ever been served before and ultimately win more of their business.

"
Jeff Lee, Chief Marketing Officer, Seacoast Bank