March served a great reflection on Women's History Month honoring the path women have traveled to get to where we are today, but throughout the month of April we're looking forward to the future of strong women in business, so let's continue the conversation about the importance of women in leadership roles.
Join us as we discuss female leadership roles in businesses and communities, tips on how businesswomen can pull ahead in the workplace and business ownership, interesting facts and statistics about businesswomen and leaders, and how women can step up within their industries and lead a new appreciation of female-driven business.
14 Inspring Anthems for Powerful Women (Like YOU! Yes, You.)

Need inspiration to get motivated and moving through a mountain of work, or to keep your energy and momentum flowing into a fabulous weekend from your productive work week? Plug in and listen to any one (or all!) of these empowering anthems.
And definitely put them on repeat on the morning of your big meeting.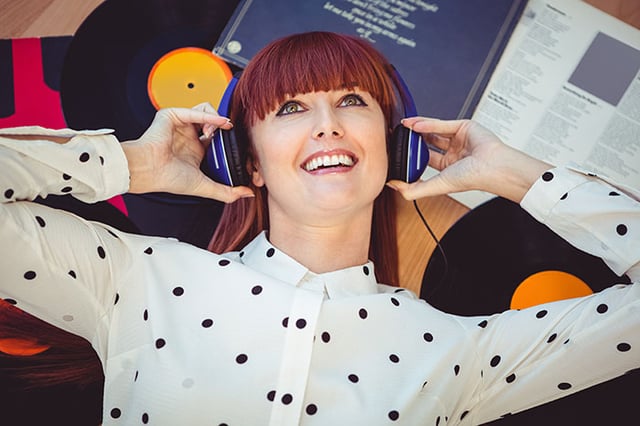 "Can't Hold Us Down" by Christina Aguilera and Lil' Kim--Because we've all been stung by the double standards. Been labeled aggressive or emotional? Own it, you assertive, leader-y, and passionate woman. Go get what's yours.
"Man! I Feel Like a Woman!," by Shania Twain--Because being a woman is phenomenal. Ms. Maya told us so. A little reminder now and then feels good.
"Girl on Fire" by Alicia Keys--Because this next big project win is yours. You got this.
"Unwritten" by Natasha Bedingfield--Because your story is far from over. You're just getting started... and the rest is still unwritten.
"Respect" by Aretha Franklin--Because, yeah. And it's not just for scream singing on the dance floor with your mom and aunts at your cousin's wedding.
"Run the World (Girls)" by Beyonce--Because it was true before and it's true now. And it'll be true tomorrow. You're part of something much bigger than yourself.
"Hit Me With Your Best Shot" by Pat Benatar--Because sometimes you just want to hear a classic that takes you back to the days when you first believed you could be anything you wanted to be.
"Stronger (What Doesn't Kill You)" by Kelly Clarkson--Because sometimes you need a pick-me-up. No one else is going to do it for you.
"My Lovin' (You're Never Gonna Get It)" by En Vogue--Because you call the shots and sometimes saying "no" feels great.
"Before He Cheats" by Carrie Underwood--Because nothing says "don't mess with me" quite like slashing someone's tires. Not that you've ever done anything remotely like that, but you know, there's a first time for everything.
"Fight Song" by Rachel Platten--Because taking back your life after going off track is big. It is way overplayed right now, but come back to it from time to time for that same "hell, yeah" you felt the first time you heard it.
"Bossy" by Kelis--Because switching up the beat of the drum is part of the job. Crank this before your next conference call. Let them know that regardless of whether they love you or hate you, they'd better get out of your damn way.
"Rolling in the Deep" by Adele-- Because life teaches tough lessons but you come out stronger and more resilient. No one should underestimate you. Here's how Adele handles criticism.
"Perfect" by P!nk--Because you're perfect exactly how you are. Right now. Today. And because what I want for my own daughters is what I want for us all. Know your value. Know your power.
If you need a double dose of empowerment to top off the jam session you just had, there's no better place to find it than from a seasoned professional and female business leader who truly does it all - Don't miss your opportunity to ask Seacoast's Executive Vice President, Small Business Banking Leader, Julie Kleffel any question you'd like about being a women in business in the form below.
AND mark your calendars for April 26th at 12pm EST, as Julie takes over Seacoast's Twitter (@SeacoastBankCom) to provide insight on her own experiences as both a business and community leader, to open a discussion up for women in business to share their thoughts on mentorship, the role of women in business today as well as in the future, and dive deeper into how we begin to make a meaningful shift in the involvement and profile of female leaders in the workplace.
ASK A WOMEN IN BUSINESS MENTOR A QUESTION:

About Julie Kleffel
Julie Kleffel is Seacoast Bank's EVP, Small Business Banking Leader. She joined the Seacoast leadership team as a result of a merger between her former institution BankFIRST and Seacoast Bank. She is responsible for developing, implementing and overseeing the bank's small business banking strategies and initatives statewide. Prior to the merger, Julie was BankFIRST's Executive Vice President and Commercial Sales Leader. She has over 19 years of overall banking experience.

As a fourth generation Central Florida native Ms. Kleffel has strong ties in the community. Ms. Kleffel currently serves as the Treasurer for the Garden Theatre, Executive Board Member for the Dr. Phillips YMCA, Finance Committee for the Central Florida YMCA, and Executive Director for the National Entrepreneur Center. She is a Lifetime Director for the West Orange County Chamber of Commerce. Previously she served as the Past President for the West Orange Committee 101, Past Chairman of the Roper YMCA, Past for Oakland Park Foundation Board, and Past Advisory Board Member for Westside VoTech. She is a graduate of Leadership West Orange.

A graduate of the ABA National and Graduate Commercial Lending Schools, Ms. Kleffel has also received the prestigious "Certified Lender Business Banker" designation from the Institute of Certified Bankers. She completed her professional education by graduating with distinction from the American Bankers Association Stonier Graduate School of Banking at the Wharton School of Business at the University of Pennsylvania in 2009. Her graduate Capstone Strategic Project was published by the ABA immediately following her graduation. She has served as an Advisor and Advocate for the school since 2009.
Connect with Julie Kleffel on LinkedIn
Read the original article on Inc. Copyright 2016.